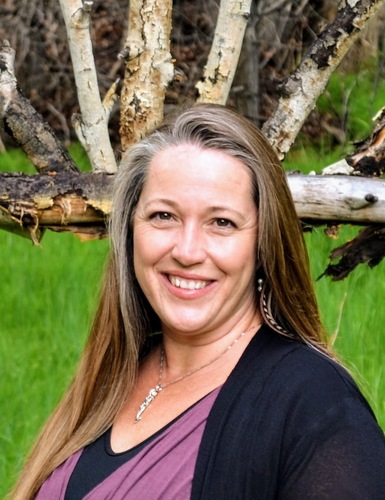 MA, LPC, IMH-E®, PMH-C
Infant Mental Health Mentor-Clinical
Perinatal Mental Health Certified
Irving Harris Child Development & Infant Mental Health Fellow
EMDR Certified Therapist & CIT (Consultant In Training)
Coalescence Health Co-Founder & CEO
Sarai Trujillo is deeply rooted in her communities in the Americas including Salida, Colorado, US and Teacapan, Sinaloa, Mexico. She is a mother of seven and grandmother ("Yaya") to a growing tribe of littles. Her therapeutic approaches are rooted in trauma informed anti-racist therapies including: person-centered, feminist, attachment-based, and EMDR.
She is a Licensed Professional Counselor (LPC) specializing in Eye Movement Desensitization and Reprocessing (EMDR) and working with parents and caregivers of all ages, particularly during the sensitive periods of development in perinatal, infant, and early childhood.
She is considered an expert in the field of EMDR, perinatal, infant, and early childhood mental health and shares this expertise by offering consultation for other helping professionals. In addition to her mental health background, Sarai has vast wellness experience. She was a certified Zumba Instructor for over a decade beginning in 2008 and taught multiple exercise classes including yoga, strength, and dance. She is a runner and has completed several marathons and half marathon races.
Sarai believes that health is achieved within healthy relationships, which is why she holds a holistic, integrative, and collaborative space in her personal and professional life. For this purpose, she co-founded Coalescence Health where she also serves as the Chief Executive Officer!
More about the associations and certifications:
EMDR (Eye Movement Desensitization and Reprocessing) certification is granted and regulated by EMDRIA. EMDRIA is a "membership organization of mental health professionals dedicated to the highest standards of excellence and integrity in EMDR" (https://www.emdria.org/).
Infant Mental Health Endorsement (IMH-E®) is granted and regulated by the Colorado Association for Infant Mental Health (CoAIMH). CoAIMH is "a group of early childhood professionals united by an interest in the healthy social and emotional development of infants and their families". Endorsement demonstrates the professional encompasses skills and knowledge necessary to implement best practices that promote delivery of high quality, culturally sensitive, relationship-focused services to infants, toddlers, young children, parents, other caregivers and families (http://coaimh.org/).
Perinatal Mental Health Certification (PMH-C) is offered through Postpartum Support International (PSI). PSI's mission is "to promote awareness, prevention and treatment of mental health issues related to childbearing in every country worldwide". They believe, "You are not alone. You are not to blame. With help you will be well". This is the first certification of its kind creating a structure to inform families and providers of a professional's commitment to specialty education, training, experience, and evaluation in perinatal mental health. (https://www.postpartum.net/).
Fellowship with the Irving Harris Program in Child Development and Infant Mental Health is part of the CU Anschutz Medical Campus at the University of Colorado School of Medicine - Department of Psychiatry. In this program, postdoctoral psychology fellows and community professionals are trained in clinical, research, and systems factors, including clinical placements, didactics, reflective supervision, and professional development (https://medschool.cuanschutz.edu/psychiatry/education/fellowships/harrisprogram).